Romance at its Finest
Maca Bana can provide the perfect setting for your romantic Caribbean wedding. With serene tropical gardens, breathtaking clifftop vistas, secluded beach and spacious Aquarium restaurant, Maca Bana can create an unforgettable experience for your wedding party.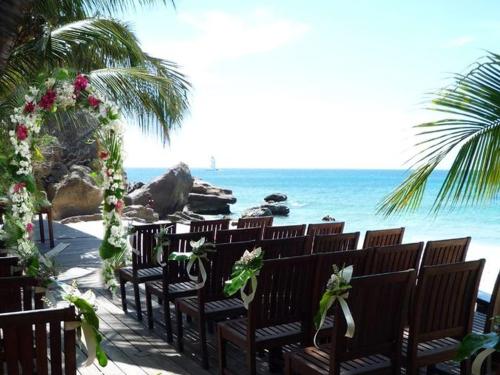 From intimate affairs with a handfull of special guests, to larger affairs for extended family and friends, Maca Bana can cater to parties of any size.
Unite as the sea splashes against the sand of the deck of Las Sirena, or opt for a private reception on the balcony of our charming Bana's. Maca Bana has many idyllic locations for your special day.
Whichever you chose, our dedicated team can assist with everything from floral and decorative arrangements; catering; entertainment, photography and legal paperwork, to arranging a priest and magistrate.
Our competitive rates and spectacular scenery will ensure that the moment youtie the knot is both magical for you and memorable for your guests.